July 2019 Events at the Gouldsboro Train Station
Thursday July 11th 7pm – Nutrition Presentation
Saturday July 13th 1pm – Paint and Sip
Sunday July 14th 12pm – Steamtown Train arrives
Saturday July 27th 11am-3pm – Arts & Crafts show and Flea Market
GOULDSBORO AREA FOUNDATION HISTORY
In the Summer of 2000, the railroad station had been closed for 30 years. It was in complete disrepair, vandalized, had holes in roof, etc. Three individuals met with the Lackawanna Rail Authority. The Rail Authority had no plans to restore nor money available to fix the station. A lease was signed with the Rail Authority and the Gouldsboro Area Foundation (GAF).
A committee was formed, an election was held and standing committees were appointed. The Committees were: finance, grants, publicity, restoration and memorabilia. There were 17 interested volunteers at that time. GAF was registered in the state of Pennsylvania as a non- profit organization and incorporated on August 15, 2000. A loan was secured from the local bank to remove and replace the asbestos roof. A grant was later obtained from Penn Dot and restoration began with the assistance of an engineer. Some of the challenges were no running water, no electricity, no toilets, asbestos shingles and holes in the walls and roof. This was a three-year project by a local contractor whose bid was accepted. To this day, fundraisers and volunteers continue to maintain the finished building, which is an asset to the town.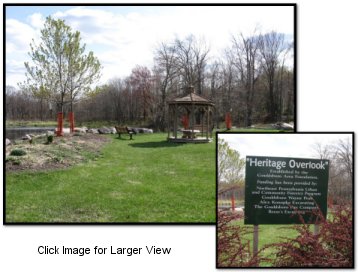 An informative book was published, containing history of Jay Gould, ice cutting on the five lakes where huge icehouses stored ice all year for shipping to New York and as far as Florida. To this date, over 1700 copies have been sold. Also available in the small retail shop at the station are five DVD's of days gone by in the 1930's and 1940's in Gouldsboro, including some of the old industries. The station contains a large museum room with articles and artifacts from railroading and ice cutting, a full kitchen, handicap accessible toilets, retail shop and social room for rent that seats 50-60 people comfortably.
The Gouldsboro Historical Society volunteer man-hours to keep the station open weekends from May to December. At the present time, we have 60 lifetime members and continue to grow. The GAF meets the last Tuesday of each month at 7 pm at the train station. For more information, contact President, Tom Jones.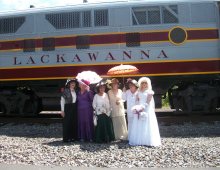 The Steamtown Excursion Train made a stop at the Gouldsboro Train Station. People of all ages were in attendance to see the train and take pictures. Gouldsboro Historical Society members were dressed in their Victorian clothing to greet passengers and visitors and pose for pictures. Click picture for larger view.
Some pictures from the 2018 Iron Pour Demo at the train station.  The train arrived on May 29, 2018 and created a sculpture that will remain at the Gouldsboro Station.  You can stop by on Saturdays from 10am-2pm during the summer to visit the station museum.